Free domestic shipping on orders over $175
Responsible jewelry handcrafted in the Pacific Northwest.
Specializing in custom and bespoke designs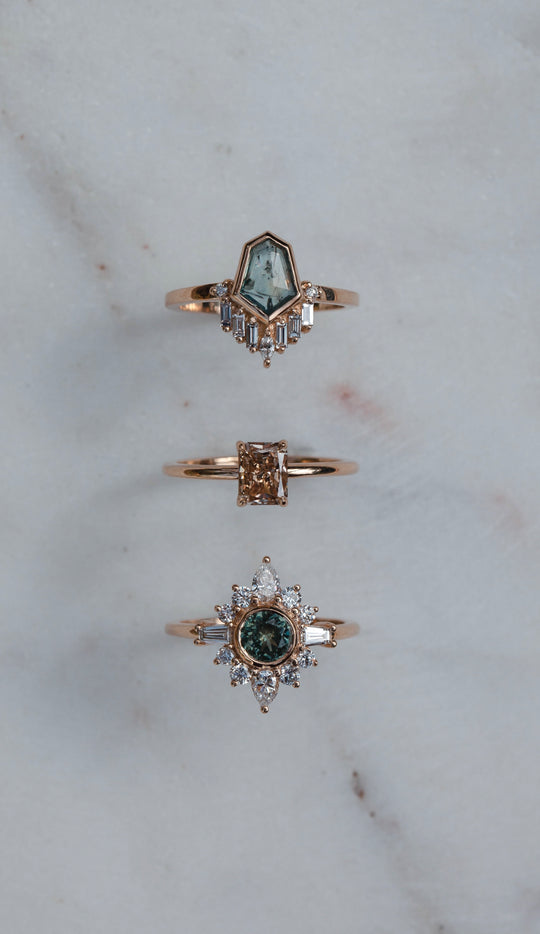 From $1,220.00 - $1,950.00
Bespoke Designs
Designing your dream ring should be fun and effortless. We are here to walk through the custom process step by step to create your perfect design.
Learn More
What People Are Saying
I worked with Jaimie to design my custom engagement ring. Jaimie was patient, thorough, and super creative throughout the design process, bringing numerous ideas, stones, shapes, and materials to our conversations to help me find just the right design. She knew so much about how to create a piece that fit both my budget and dreams, bringing me options and ideas as I discovered more about what I liked and didn't like. Her passion throughout was evident and made the entire process even more exciting, and now that I have my ring, I could not be more thrilled! It is everything I wanted, and that's all credit to Jaimie's expertise and guidance from the initial consultation to the finished product. 8/5 stars.
"I have two rings made by Jaimie and I love both of them so much! High quality and beautiful. Whatever you have your eye on, go ahead and press the buy now button (thank me later ;)"
"Absolutely beautiful. I bought this ring as a present and it's my sisters favorite ring yet. Cannot wait to purchase more overtime. Wonderful customer service packaged with care from a wonderful maker and human."
"I loved working with Jaimie so much I honestly don't know where to start. Building my custom ring was so fun and Jaimie was thoughtful and attentive throughout the process. I could both lean on her design expertise (and her fabulous, modern, timeless style) and trust that she was listening to my hopes for my custom piece. I love it so much more because I built it, and now I'm a super Jaimie fan! If you're on the fence, don't be-you won't regret it!"
"Beautifully crafted! I wear this ring every day. The colors of the stone are so vibrant."
"WOW what a ring! Hands down the best ring I have ever bought. 10/10 would recommend!"
Meredith H.
Albrie D.
Elizabeth M.
Margret A.
Chelsea F.
Greg B.